SPARC: A Social Place for Athletics, Recreation and Community
In late 2008, a group of Conneaut business and community leaders came together in support of the greater Conneaut community and specifically its schools, Conneaut Area City Schools ("CACS"). These visionary volunteers formed the CARE for Kids committee and assembled a preliminary plan for a much-needed school athletic and community recreational facility. Appropriately, the project was named SPARC (A Social Place for Athletics, Recreation and Community) with the following criteria:
Support a full-range of school sports that is the physical education complement of Conneaut Area City Schools' excellent academic program.
Support a new community recreation program serving pre-school to senior citizens that is available to the community.
Host a variety of events: sports, performing arts, festivals, and community gatherings.
Offer first-ever spectator amenities (good seating, restrooms and concessions) to attract audiences from within and outside Conneaut.
Be accessible to the greater Conneaut community.
And there was one more very important stipulation: fund SPARC using grants and private donations since local public funding was fully committed to supporting Conneaut Schools' strong academic programs.
It was a tall order. After 18 months of research and planning in partnership with the Conneaut Area City Schools, CARE released its plan. SPARC will be a 20-acre school athletic, recreation and community event campus in central Conneaut adjacent to Conneaut High School. It will be constructed over the next five years, supported by a broad-based capital/endowment campaign seeking $5.5 million in donations and gifts-in-kind from private sources.
The Solution
The SPARC will benefit Conneaut because it will:
Be Accessible for Entire Conneaut Community
Encourage and Increase Student Participation
Bring Positive Impact for Businesses, Restaurants, and Tourism
Allow Conneaut to Host Events

Track and Field
Band/Performing Arts
Tennis
Community Presentations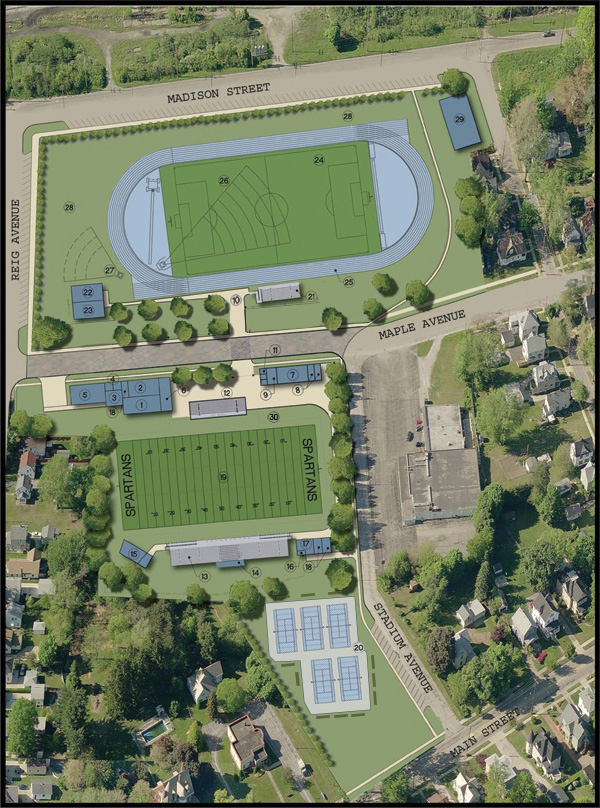 1. Men's Locker Room (Home)
2. Women's Locker Room (Visitor)
3. Meeting Room
4. Offices
5. Weight/Fitness Room
6. Storage
7. Mens Locker Room (Visitor)
8. Restrooms
9. Concessions
10. Track and Field Complex
11. Ticket Booth
12. Visitor Bleachers (424 seats)
13. Home Bleachers (1700 seats)
14. Pressbox
15. Band Shell & Band Storage
16. Tennis Storage
17. Concessions
18. Restrooms
19. Football Field
20. Tennis Courts
21. Track Bleachers (400 seats)
22. Mens Locker (Track/Soccer)
23. Women's Locker (Track/Soccer)
24. Soccer Field
25. 8-Lane, 400M Track
26. Discus
27. Shotput
28. Practice Fields
29. Storage
30. Football Stadium